Noble garments are fashioned by the Mundanes for Aislings who have won several Aisling awards or who have taught regular, well-attended classes at Mileth University. The man's Noble Garment consists of a white silk shirt with lace jabot, a yellow cravat, fine cloth trousers, and a gray silk coat lined with ermine.
Noble Lord and Lady garb does not vanish, but costs an extraordinary amount of Noble marks, which it makes it much sought after and rarely seen.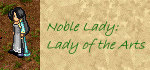 This armor can be worn by Aisling-Award winners, provided they spend a lot of Noble marks. It was designed by Bentic Stedwinn.
Addendum by Landon: A little correction for the color dye handbook... the noble garments disappear after 2 double-moons, and that is four moons. *smiles*
Addendum by Sungam: The "old school" noble clothes don't disappear and never did (that is, the lower insight versions of the regular armors). However, the newer noble armors made by Bentic only last a short time.