When an individual is first summoned, stunned and newly aware of his or her aisling potential, the Mundanes provide peasant clothes. A woman's peasant clothes consist of a simple dress with short sleeves and a short skirt constructed of ragged yellowish cloth. Since the discovery of Medenia this dress also carries a colorful border in pink. A man's peasant clothes consist of a short, green, sleeveless cloth tunic, a brown leather belt, and a pair of worn gray leather trousers.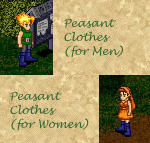 In Temuair, the Mundanes create beautiful traditional marriage clothing for church weddings and for pledges in the faery glade. For the bride, there is a white satin pleated gown embroidered with silver around the hem. There is also a white tulle and satin veil crowned with satin roses. For the groom, there is the white tuxedo with a white cutaway coat, white trousers, green shirt and purple cravat. Although the happy couple must purchase their wedding attire, every bride who wears a white gown is provided with a bouquet of pink roses.
Some brides prefer to wear the white Hair Band instead of the veil. Please flip to the Women's Hats page in the Accessories section of this handbook to see a picture of this alternative wedding garb.

Seen this Deoch 30: two new wedding gowns - sold by the Mundanes the first time to Landon and Flyss for their wedding ((27.09.2002)): Go see the merchant Jilt in the town of Piet to purchase them (the veil can be purchased alone, as well). According to Landon both outfits together will cost the interested Aisling buyer 10.5 million gold coins, so it would be advisable to save before proposing to your loved one!